Collection:

Sakai Takayuki Ginsanko
Ginsanko is a very special type of high carbon steel. It is the steel that enabled the craftsmen to apply traditional hammer forging technique to stainless steel. Hardened to HRC 60, the Sakai Takayuki Ginsanko line gives you great sharpness and edge retention similar to traditional high carbon steel yet without the rust!
Forged by Master Craftsman Suogo Yamatsuka, shaped and sharpend by Master Craftsman Mitsuo Yamatuka.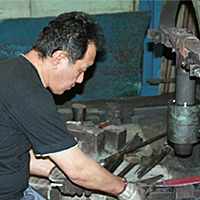 Master Suogo Yamatuka and Master Mitsuo Yamatuka