Collection:

Yoshikawa
The city of Tsubame in Japan 's snow country of Niigata is an area of traditional local industry that is the cornerstone of metal craftsmanship.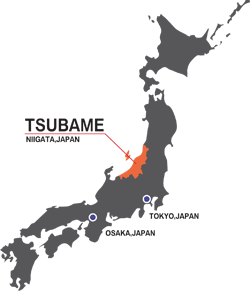 The city of Tsubame in Niigata Prefecture , in which Yoshikawa Corporation is located, has prospered through the manufacture of Japanese nails since the Edo Era (1850 onwards,) and this has led to it being known as a local industrial area throughout the entire country.
The metal craft technology cultivated through the manufacture of Japanese nails evolved as time wore on, leading onto the production of tobacco pipes as smoking became more and more common, and then onto the production of copper pots and pans, which are formed through beating (hammering) in the age-old manner. It also resulted in the manufacture of pokers that are used in Hibachi (charcoal braziers) in order to distribute heat, and this transition across to metalware technology that is used in everyday household situations was constantly improved through trial and error.
Having built up excessive experience over the course of time and moved onto the manufacture and export of Western-style metal kitchenware, we then began to manufacture metal houseware, such as pots and kettles, as a new branch of the industry in the period following 1945. Our extremely high levels of traditional craftsmanship and productivity led to us becoming famous throughout the country as a local ind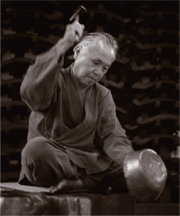 ustrial area, and this developed even further until it resulted in the establishment of a nationwide industrial union.
In the modern era our position as the cornerstone of stainless steel and other metal alloy processing that has inherited Japan's oldest traditional levels of craftsmanship is firmly established, and we stand by our conviction to continue with these policies no matter how products and materials change with the passage of time.
Yoshikawa Corp., which has journeyed hand-in-hand with the city of Tsubame on its quest to earning the reputation as an area of traditional metal craftsmanship, has contributed greatly to cultivating the town into a local industrial area, and it is our full intention to continue creating products under the concept of using refined stainless steel processing technology to produce high-quality and safe products and to cater to all of our customers' requirements.